FMEAs in SEP
SEP allows users throughout your organization to view FMEAs and published reports that were created in ReliaSoft XFMEA/RCM++ — even if they don't have the desktop applications installed. It includes convenient features that allow managers and stakeholders to track key FMEA details from any web-enabled device.
The FMEAs link in the menu opens the FMEAs page for the project that is currently active for you in SEP. This link also appears in the Project Summary page if the project contains FMEA data.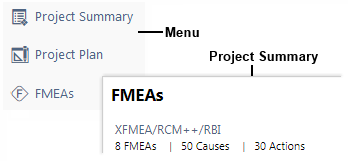 To view the FMEAs from a different project, click the Change Project button at the top of the FMEAs page.