Projects in SEP
In SEP, some pages — such as My Actions and My Reports — show data from any project that you have permission to view. Other pages display data only from the project that is currently active for you. These pages include:
Project Summary
FMEAs
Project Plan, if enabled
The Project Plan page is only available if the Enable Project Planner option is selected for your database in the desktop application(s). (See Project Planner in the desktop help.) Likewise, if this option is not selected, project plan information will not display on the Project Summary page.
Note: SEP does not support the full functionality of the desktop Project Manager. For example, it supports filter criteria — including the Show locked projects option, as of Version 2021 — but not the Group by category and Group by owner display preferences; instead , SEP's "Select projects" utility always groups projects by Category (never by Owner).
Select or Change Projects
For any page that shows data from a particular project, the Change Project button allows you to view that same type of data from another project. This button opens a popup box with a list of projects that you previously selected for quick access in SEP.
Tip: These projects also appear in the My Projects tile in the SEP dashboard.

To add or remove projects from this list, click Select Projects. In the Select Projects popup window, the right side shows your list of projects and the left side shows all the projects that you have permission to view.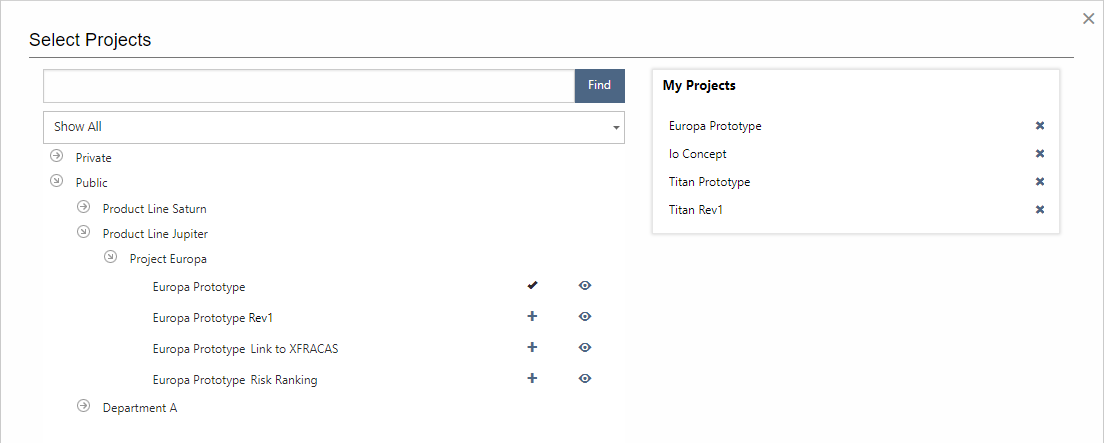 You can apply any project filters that were created in ReliaSoft desktop applications or use the Find tool to search by project name.
Use the icons to add, remove or simply view projects:

  Add to My Projects
 View Now (i.e., view the project without adding it to your list)

 Indicates that the project is already in your list.

 Remove from My Projects
Tip: If you want to have quick access to the same set of projects while working in ReliaSoft desktop applications, you can create a project filter that filters based on Selected projects.
Related Topics and Links